Ultrasonic welding and sealing-slitting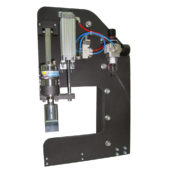 Ultrasonic equipment
"Cutter Frame Genius 400-35"
For welding and sealing-slitting by points
CONTACT-US
Features / Advantages of the product
Installation « all positions » thanks to the distance with the pressurization system.
Regularity of the sealing: thanks to the easy and accurate adjustment of the ram connected to the sonotrode.
Product Longevity: durability of the spare parts, very easy to change or repair.
Operator Protection: thanks to a minimum lifting of the ultrasonic head.
Increased Productivity: thanks to the control through a pedal.
Personalized according to your needs: wide range of sonotrodes available.
Equipment to be installed next to each machine station.
Voltage: 230 V – 50 / 60 Hz – single phase.
Power: up to 400 W – Frequency: 35 kHz.
Air supply: maximum 6 bar.