Ultrasonic sealing-slitting by ultrasonics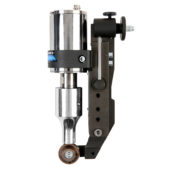 Ultrasonic equipment « Slitter Genius 400-35 » for continual welding and sealing-slitting
CONTACT US
Features / advantages of the product
Installation "all positions " thanks to the distance of the pressure system
Product longevity : durability of the spare parts, very easy to change / repair
"Sonic Touch Control": patented approach system of the sonotrode, accurate and without pressure.
Automatic protection of your products by detection of sonotrode lifting triggering the safety stop.
Personalized according to your needs: different slitting angles available.
Equipment to be installed on machines.
Voltage: 230V-50-60 Hz- single phased.
Speed: up to 80m/minute (manual), according to products to be cut and to your specifications.
Power: up to 400 W- Frequency : 35kHz
Air supply: maximum 6 bar.