Ultrasonic cutting and sealing in line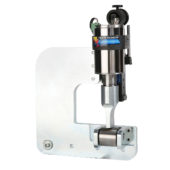 Ultrasonic equipment
"Hem Welder Genius 400-35"
For continual sealing by spots.
Patented System "Sonics Touch Control"
CONTACT US
Features / Advantages of the product
Regularity and quality of the sealing thanks to the accurate position of the sonotrode on the wheel.
Optimized use: lateral moving and continual cleaning of the sealing wheel.
Product Longevity: durability of the spare parts, very easy to change or repair.
"Sonics Touch Control": Patented approach System of the sonotrode, accurate and without pressure.
Automatic protection of your products by detection of sonotrode lifting triggering the safety stop.
Personalized according your needs : sealing from 24mm to 150mm from the edge of the product
Equipment to be installed on production lines.
Sealing on wheel.
Stationary sonotrode and rotary engraved wheel pulled by the product
Width of the Standard sealing: 8 mm (other dimensions on request : 12, 16, 20 et 25 mm).
Speed: up to 80 meters/minute according to your products and to your specifications.
Voltage: 230 V – 50 / 60 Hz – single phase.
Power: up to 400 W – Frequency: 35 kHz.